Key Points
Public & Private Sectors working in partnership to build energy security.
Thailand is targeting 25% of energy to come from renewables.
Hopes for ASEAN grid to be backbone of regional development.
Thailand has ambitious goals to be the industrial hub of the AEC. Does it have sufficient energy supply and security to achieve this?
"On the surface there would appear to be sufficient supply however we are overly reliant on gas imported from Myanmar. We rely on gas for over 50% of our energy supply so if something was to happen to cut off that supply then we would be in trouble. Ideally we should diversify our supply and only rely on gas for 10 or 20%."
Mr Prachai Leophairatana, CEO of TPI Polene PCL
"My own opinion is that we are comparatively not so bad as we only import around 50%. The main concern is that we rely too much on gas. The country does not accept coal, which is the cheapest energy source. New coal technology has removed a lot of the environmental problems. Teams have been sent to Japan and Germany to see how the plants work efficiently but it is still not accepted by the people of Thailand."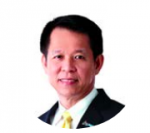 Mr Sukrit Surabotsopon, CEO of IRPC PCL
"I probably see the AEC in 10 years' time a little bit like the EU where you have a power grid across the region. In the EU France is basically the main power supply to Europe since they have a lot of nuclear power plants. I see something like that coming as well in the AEC. The fact that Thailand seems to be in the heart of this region will be a big benefit for us. I see the power grid reaching across from Vietnam all the way to Malaysia."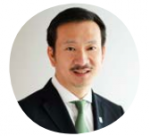 Mr Chaiwat Kovavisarach, President of Bangchak Petroleum PCL
Is this Pan-ASEAN collaboration already happening?
"Thailand will be a hub for the energy sector in the AEC, dispatching power across the region. Our company was not just one of the pioneers in the private power generation industry but also in ASEAN collaboration with our power plant in Vietnam. In addition to powering the national power grids we provide clean and affordable energy for over 200 large manufacturers.
The opportunities in ASEAN are immense; Laos can be the battery of the region through Hydro Power. We will have two or three projects there and Myanmar is now open for investment. You need to study each country well and adapt to culture and language but there is real ambition across the region and excitement about developing the renewable energy sector."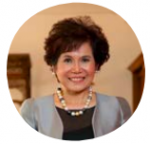 Mrs Preeyanart Soontornwata, President of B. Grimm Power Limited
Thailand has set a goal of 25% of energy to be generated from renewable sources. Is this achievable?
"Yes, we can certainly achieve that. At TPI Polene we already generate significant amounts of energy from waste. Thailand can also generate energy from solar and wind, if the government continues ahead with the current policies and in investing in hydropower we can achieve this target from environmentally sustainable source."
Mr Prachai Leophairatana, CEO of TPI Polene PCL
"When it comes to renewable energy, turning waste into energy, we have not invented anything new. The process is quite simple. We didn't build our first power plant ourselves, we took it over from the original owner. Where we innovated was in solving the inefficient process they had. Solving inefficiencies is much of the battle!"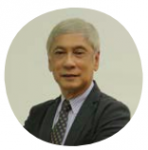 Mr Viravat Cholvanich, CEO of BMP Energy PCL
"Much of the worry is about the cost of investment. The initial cost of renewable energy is quite expensive but the government does subsidize a lot of the costs when selling.
There are lots of opportunities in Thailand. Wind energy is generally most beneficial in the south of Thailand whereas solar energy is better in the north. However, there are some areas in the northeast where wind energy is viable.
I want to build our next plant as best as possible. I want to build not only the plant but also the park so that the community can be involved as well. I want the community to feel as though the solar energy is tangible so that they understand and want to get involved. I want the communities to experience green, sustainable energy. I feel like they should be educated about it and be excited about it. One of our upcoming plans is to make an island in the south one of the first green islands of Thailand using a smart micro grid."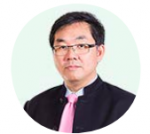 Lieutenant Dr Wichai Thavornwattanayong, Chairman and Executive Director of Inter Far East Energy Corporation PCL
"The environmental battle is not just about renewables. IRPC is listed on the Dow Jones Sustainability Index and we put all our efforts into improving the environment. Before we took over the plant near Rayong, in Thailand's largest industrial zone, the community was protesting about the environmental impact. We put a lot of effort to reduce emissions and try to improve overall energy efficiency. We replaced the fuel oil power plant with a gas powered plant. We keep track of complaints from the local community and they have significantly dropped over the years."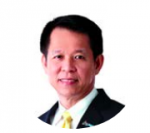 Mr Sukrit Surabotsopon, CEO of IRPC PCL